Ready to Make an Appointment?
Contact Us Today!
Dental Implants are Changing the Way People Live.
For exceptional implant dentistry in the Rancho Bernardo area, call Dr. Lin and Dr. Gramins today!
Dental implants are designed to provide a foundation for replacement teeth that look, feel, and function like natural teeth. The person who has lost teeth regains the ability to eat virtually anything, knowing teeth appear natural and facial contours will be preserved. Patients with dental implants can smile with confidence.
The implants themselves are tiny titanium posts surgically placed into the jawbone where teeth are missing. These metal anchors act as tooth root substitutes. The bone bonds with the titanium, creating a strong foundation for artificial teeth. Small posts that protrude through the gums are then attached to the implant. These posts provide stable anchors for artificial replacement teeth.
Implants also help preserve facial structure, preventing bone deterioration that occurs when teeth are missing.
Dr. Lin attended the University of Illinois in Champaign-Urbana to obtain his undergraduate degree. He then continued his education at the University of Illinois in Chicago where he received his Doctorate of Dental Surgery in 1992.
Dr. Robert T. Gramins attended the University of Illinois in Champaign-Urbana to obtain his undergraduate degree in Biology in 1993. He then pursued his dental education at Northwestern University in Chicago, graduating in 1998.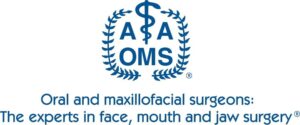 Why Choose An Oral Surgeon For Dental Implants
Based on the amount of advertising for dental implants, patients are led to believe that dental implant treatment is available in any dental office. There seems to be a general misconception that the quality of treatment is the same regardless of where it is provided. In reality, not only does placing a dental implant require impeccable precision, but many patients also require preliminary treatments prior to receiving their replacement teeth. Common treatments that might be necessary before implant placement include tooth extractions and bone grafts. An OMS will have extensive experience providing both of these types of procedures.
In the right hands, dental implant treatment is extremely successful and complications are very rare. However, in the event of a surgical complication the extensive experience of surgical specialists provides a level of safety and comfort for patients that does not exist when dentists with far less training and experience perform surgical procedures.
Oral Surgeons spend an additional four years beyond dental school in a hospital-based residency, including a full year of anesthesia training.
Choosing the right specialist for your dental implant is one of the most important steps! Out of all the dental specialties, oral and maxillofacial surgeons are the most qualified to complete your surgery.
Top Questions
from our Patients in
Rancho Bernardo About Dental Implants
Dr. Lin and Dr. Gramins talk about the benefits of dental implants and the process.  Learn about the typical timeframe for dental implant placement and what the difference is between dental implants and a conventional bridge.
It's nice to go back to your old life. You can have a smile again and have a steak again.
Hans
I\'ve had two different needs to visit Dr Lin and his staff. Both were incredible experiences. I was treated well from initial contact, to entering the office, through the final appointment. I highly recommend them and would use them again if needed - although I hope I never need another unplanned implant.

Jim G., Rancho Bernardo
I've done at least 3 implants with Boulder and each time was just as smooth... no need for pain medication once the process was over. Comfortable general anesthesia so I didn't have to be around for the process 🙂

Tobenna G.
For most patients, the placement of dental implants involves two surgical procedures. First, an implant (replacement tooth root) is placed within your jawbone. In some situations, a bone graft is necessary before the placement of an implant.
For the first one to three months following surgery, the implant is beneath the surface of the gums gradually bonding with the jawbone. You should be able to wear temporary dentures and eat a soft diet during this time.
During this time, your dentist will form new replacement teeth.
After the implant has bonded to the jawbone, the second phase begins. Our doctors will attach small posts that protrude through the gums and act as anchors for the replacement teeth. Keep in mind that your replacement teeth will completely cover the small posts once they are placed by your dentist.
The entire procedure usually takes between two to six months and most patients experience minimal disruption in their daily life.
Regain Your Smile with a Full Arch Restoration
All-On-4 and Full Arch Restoration are terms used to describe an innovative method of replacing missing teeth (or teeth with extremely poor dentition) with a full arch prosthetic. Our surgeons coordinate with your general dentist to plan a course of treatment to restore one or both arches of teeth. All-on-4 tooth replacement can create a full smile with a completely functional set of teeth.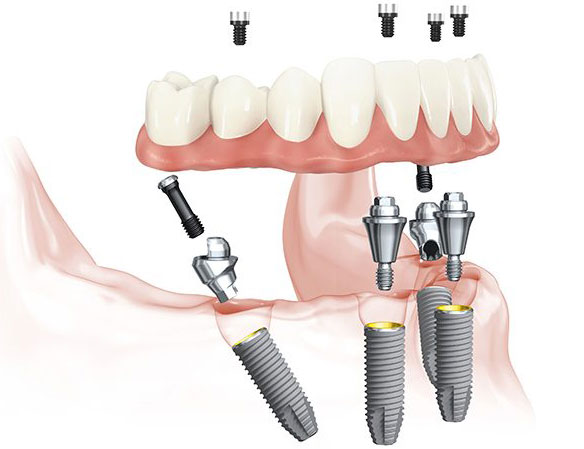 Who Is the Ideal Candidate for a Full-Arch Restoration?
What Does Full-Arch Restoration Look and Feel Like?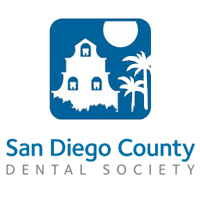 Ready to Make an Appointment?
Contact Us Today!